What is the UKs 'best' invertebrate? Its (just about still) Insect Week so I decided to try and find out. With 1000s if not 10,000s of species to choose from, it was not easy.
This list would no doubt be different from any other person, and I tried to make sure I didn't pick too many from any particular group and counter my personal bias towards aquatic invertebrates. I also stuck to terrestrial and freshwater invertebrates and if I'm honest there is some bias towards those I have seen and photographed, which inevitably means a bias towards the south east of the UK.
What is not in doubt is the following invertebrates amazing creatures, well worth seeking out and observing. The following in no particular order:
---
Southern migrant hawker Aeshna affinis


I had to have one odonata on the list and I was only ever going to pick this one. The 'Essex Hawker' turned up in 2010 and seems to be doing well. In my totally biased opinion the prettiest of our dragonflies. It seems to specialise in the ditches
Of course like all British dragonflies it has an aquatic nymph with extendable mouthparts for grabbing prey and can obtain oxygen from water by breathing through it gut by pumping water in and out of it anus, with the added bonus of being able to squirt water out under pressure and shoot through the water at speed via 'fart power' as someone once put it! Reason alone for being included!
---
Wart biter Decticus verrucivorus


One of our rarest insects, now found on only 3 of its original sites, plus 2 reintroduction sites, I was lucky a couple of years ago to assist in one of these reintroductions.
The name comes from the old method of removing warts by allowing the cricket to bite them off!
It is also an impressively large and noisy insect too, which just adds to the history and rarity.
---
Pond skater Gerris lacustris


There are a number of pond skater species in the UK, with this being the commonest. They have the ability to walk on water, hence the name American common name 'Jesus bug' and do so by using water replent hairs which covere the legs and body except for the tips of the legs which pierce the water surface to give it grip to propel them along.
They feed on invertebrates that fall onto the pond and use the pond surface like a spiders web, sensing the vibrations created by their prey, often flies or other terriestial invertebrates that have fallen onto the waters surface.
---
Water scorpion Nepa cinerea


These true bugs sit in a freshwater niche where they sit just below the surface using their snorkel like tails to breathe air while underwater. Here they wait until prey such as tadpole swim past and grab it with their claw like legs and stabbing it with their needle like rostrum mouth. They also do a rather excellent impression of a dead leaf with that body shape to hide from prey and predators.
---
Painted lady butterfly Vanessa cardui


A pretty butterfly and one of the larger of the UK species, it pips the other butterflies to a spot because of its extraordinary migration. Research has shown in autumn those in the Mediterranean fly South across the Sahara Desert to tropical Africa and overwinters there, before flying North again in spring, a total 12,000 km across the Sahara Desert!
These then breed and their offspring head north into the UK and breed on our thistles. In some years (2009 especially) we get large numbers migrating into the UK and great numbers can be seen flying in from our Southern coasts. In autumn their offspring migrate South to complete the cycle, just like the monarch butterflies in North America.
And I seriously need to get a better photo of this butterfly! The poor photo above is the best I could find in my archive, much worse than I have of a lot of rarer species!
---
Hornet robberfly Asilus crabroniformis


Probably the UK's biggest True fly (diptera) these powerful insects eating large insects such as grasshopper and make a loud buzz as they fly past, they are almost like dipteran dragonflies. They are found locally on sites with suitable habitat, heathland and grassland with open areas seem favoured and it is believed their young feed on beetle larvae in dung, so sadly worming treatments in livestock will make the dung toxic to their prey. If you are ever luck enough to see one catch a grasshopper mid jump, it is an experience you won't forget!

---
Bee wolf Philanthus triangulum


When you say wasp people usually think of social 'yellow jackets' that swarm around bins and picnics in summer. However there is a great diversity of solitary wasps including bee wolfs.
These 3cm long insects dig impressive multi chambered 1m deep burrows. They prey on honeybees, and insect that is the same size as them, paralyse them with their sting then fly back to the burrow to place it in a chamber. Each chamber is filled with a small number of bees and an egg laid. Here the young feed on their larder of bees before emerging in summer.
---
Green tiger beetle Cicindela campestris


Reported to be the fasted running insect, certainly in the UK, they use their speed to chase down ants and similar insect and slice them up with oversized jaws.
They also have Tremors-esq larvae that sit in their burrows and grab any passing insects, usually ants, but sometimes larger prey. One image of a dragonfly being dragged to its doom did the rounds on Twitter last year.
---
Great diving beetle Dytiscus marginalis


These impressive beetles can take out smaller fish and newts, but it is their large fanged larva that is the most formidable predator. Notorious for being able to clear a pond dipping tray of living things in a matter of minutes, they will attack anything that moves including a spoon or wobbling bit of weed!

No wonder they are often refered to as water tigers!
---
Great silver water beetle Hydrophilus piceus


The UK's biggest insect, this impressive beetle is largely herbivorous as an adult, eating aquatic plants, but may sometimes prey on animal prey like snails. The larvae in contrast are specialist predators of snails, particularly Ramshorn snails, grabbing them with their mouths and wrapping their body around it before crunching through the shell with the asymmetrical mouthparts.
Being large, the adults are quite obvious at the surface, leaving them vulnerable to predators like herons, so they have modified their antennae into snorkels which allows them to replenish the air supply, a bubble of air trapped on their underside, without the majority of their body breaking the surface. This silvery underside is what gives this beetle their name.
---
Medicinal leech Hirudo medicinalis


Our only (mammalian) blood sucking leech and therefore the only one that will purposely try to feed on humans, it is therefore the only UK species that can still set off my leech phobia! Their iridescent colour and large size make for an impressive annelid, but they are sadly now rare and protected by Schedule 5 license due in part to use of anti worming treatments for livestock getting into the water bodies in which they live, in the New Forest at least.
When they bite they use their 3 row of 'teeth' to pierce the skin and use an anticoagulant to keep the blood from clotting and ensure it continues to flow into their mouth. This has been used in modern medicine where a closely related species from Europe is used in hospitals after operations to ensure proper blood flow in the patients
---
Tadpole shrimp Triops cancriformis


The oldest species in the world (identical looking fossils have been found dating back 100 million years) and arguably the rarest species in England. It is not only restricted to 1 pond, but only hatches from it's long dormant eggs when conditions are right, on average for a month or 2 every 3 years!
I have been lucky enough to see these fantastic horsehoe crab like crustaceans in the wild, where their eggs can lie dormant for 100 years waiting for the right conditions to arise!
---
Fen Raft spider Dolomedes plantarius


Raft spiders are the biggest spiders in the UK, with the Fen raft spider often quoted as the largest of the 2 species. This schedule 5 protected species was heading for extinction before concerted efforts were made to save it. A program of habitat improvements and creation, as well as reintroduction and captive breeding (which at one point involved Helen Smith feeding 100's of spiderlings, each in their own test tube, in her kitchen!)
These awesome spiders are a favourite of mine, living on the edges and surfaces of ponds and ditches where they run across the surface taking out prey as large as dragonflies and small fish.
---
Water spider


The water spider is the only fully aquatic species of spider. It is found across Europe and Asia and where is occurs in pond and ditches. Despite this fully aquatic existence it breathes air and relies on it's air supply, a bubble trapped in water repellent hairs on its abdomen and underside. It cannot feed in water, so it builds a horizontal web, under which it makes a bubble of air big enough to fit inside, formed from many smaller bubbles brought down on it's abdomen with repeated trips to the surface. They then make forays out from this 'diving bell' to find prey (other invertebrates like water lice) and then have to return to their diving bell where they can feed in air. There is an added bonus to this 'diving bell' web as it acts as a 'physical gill' allowing oxygen to diffuse in from the water (as it does with the bubble on it abdomen) allowing the spider to stay underwater for longer without needing to go to the surface.
The diving bell is also used for mating and is where the female lays her eggs, its an all round very useful super villain-esq underwater lair!
---
Scorpionfly Panorpa sp.


One of the weirder looking flies-that-are-not-really-flies, the name comes from the scorpion like tail of the males. Despite appearances it is not a sting, but actually the males genital bulb and is used to clasp the female in mating.
They eat dead insects, sometimes stealing them from spiders webs, from which they have the ability to escape. The male will often bring a gift of a dead insect to the female when he wishes to mate with her, as some species are reported to eat unwelcome males!
The head is as equally odd as the other end, with a big pair of scissor like jaws, obviously useful for plucking insects from spider webs and breaking apart dead invertebrates.
---
Snakefly Raphidia notata


These long 'necked' (former?) relatives of lacewings get in for looking odd. In fact they look like lacewings with a snakes head, which they use to eat prey like aphids and mites and in some areas are important predators of pest species.
They also have an odd pupal stage as well. Most pupa are immobile as the insect turns from larval to adult form, but that of a snakefly is capable of moving around!
---
Wood ants Formica rufa


Last, but definitely not least, wood ants.  Our largest ant at 1cm long, they also have the largest nests, sometimes over 2m tall and even greater in width with 250,000 members of the colony.  They also have some neat tricks, being able to squirt formic acid from their abdomens to deter predators and attackers of their nests.  They use their bodies to heat the nest, sunbathing on the top of the nest before moving into the centre, with the movement of 1000's of these workers warmed up by the sun transferring this heat inside the nest.  They also farm aphids and clear large areas around their nest of insect prey, some years the areas nearest nests are noticeably greener than those that are not, as the ants have removed most of the leaf eating caterpillars.  They are important keystone species in the woods, grasslands and heaths in which they occur.
Throw in the fact that in spring they go to war with other colonies to decided where each nests territory border is, large battles involving 100's of ants attacking each other with their big 'jaws' and you have one top species!
---
So that is list (according to me!) the UK's 'best' invertebrate. Hope you enjoyed (and possibly agreed with some of) it!
---
In blogging related news this blog was apparently selected as one of "the Top 10 UK Wildlife Photography Blogs on the web" by a panellists at Feedspot. Thanks for that Feedspot peps 🙂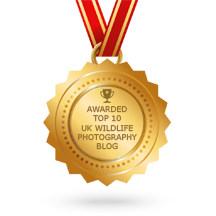 </a